Last week I went down a rabbit hole as I googled the "top wedding, couple and engagement photography locations in BC". Naturally, this is what photographers do in their spare time. What started as a 10-minute search turned into two hours of internet scrolling. Before I knew it, I had created an entire PDF of dreamy mountain locations for my clients. As of today, I have only photographed a couple in one of these locations. I swear that every time I book a couple shoot in Vancouver the couple requests a nearby location with a forest and/or long grasses. I find it somewhat comical. I moved to the mountains to photograph mountains and meanwhile my BC clients are looking for prairie landscapes within their own province. Don't get me wrong, you can never go wrong with a prairie landscape, but please help me get these mountain locations in my portfolio.
I'm hoping this post inspires you to book a session with me at one of these epic mountain locations. For now, I've included reference images from different photographers across BC, clearly credited below each image. I'm hoping this fall that I can re-create this blog post with pictures of my own clients.
1. Golden Ears Provincial Park
Golden Ears Provincial Park is roughly a one hour drive from downtown Vancouver, if you don't travel during rush hour. Let me tell you, it SO worth the drive. I've never photographed a couple here but I've visited the park too many times to count. This location is best known for it's towering mountains, mossy forests and rocky beaches. Alouette Lake is one of many popular photo spots in the park.
photographer: Mariah Millie – https://mariahmillie.ca/top-10-outdoor-engagement-photo-locations-in-and-around-vancouver/
2. Pitt Meadows/ Pitt Lake
Okay, so this is the only location on the list that I have photographed a couple at. I took photos of LaDawn and Braeden here on their wedding day and it was magical! I left this location on the list because I would love to take photos here again. Pitt Lake is roughly a 50 min drive from downtown Vancouver. It offers grassy fields, a beautiful lake, docks, and of course mountains! I've even seen dreamy photographs of couples canoeing the lake.
photographer: Me! This is the one epic mountain location I've shot at. 
3. Lighthouse Park
Looking to stay inside Vancouver?  This is the location for you. Lighthouse Park is located in West Vancouver. If you drive there during high traffic times be sure to budget extra travel time. Trust me, there is nothing quite like driving over the Lion's Gate bridge during rush hour. Lighthouse park is known for large driftwood trees, rocky cliffs and of course its lighthouse. However, don't be disappointed when you walk up to the lighthouse and realize there is a huge gate around it. This lighthouse is better photographed from afar. However, in my opinion the rocky cliffs and little driftwood beaches are this park's most beautiful attractions.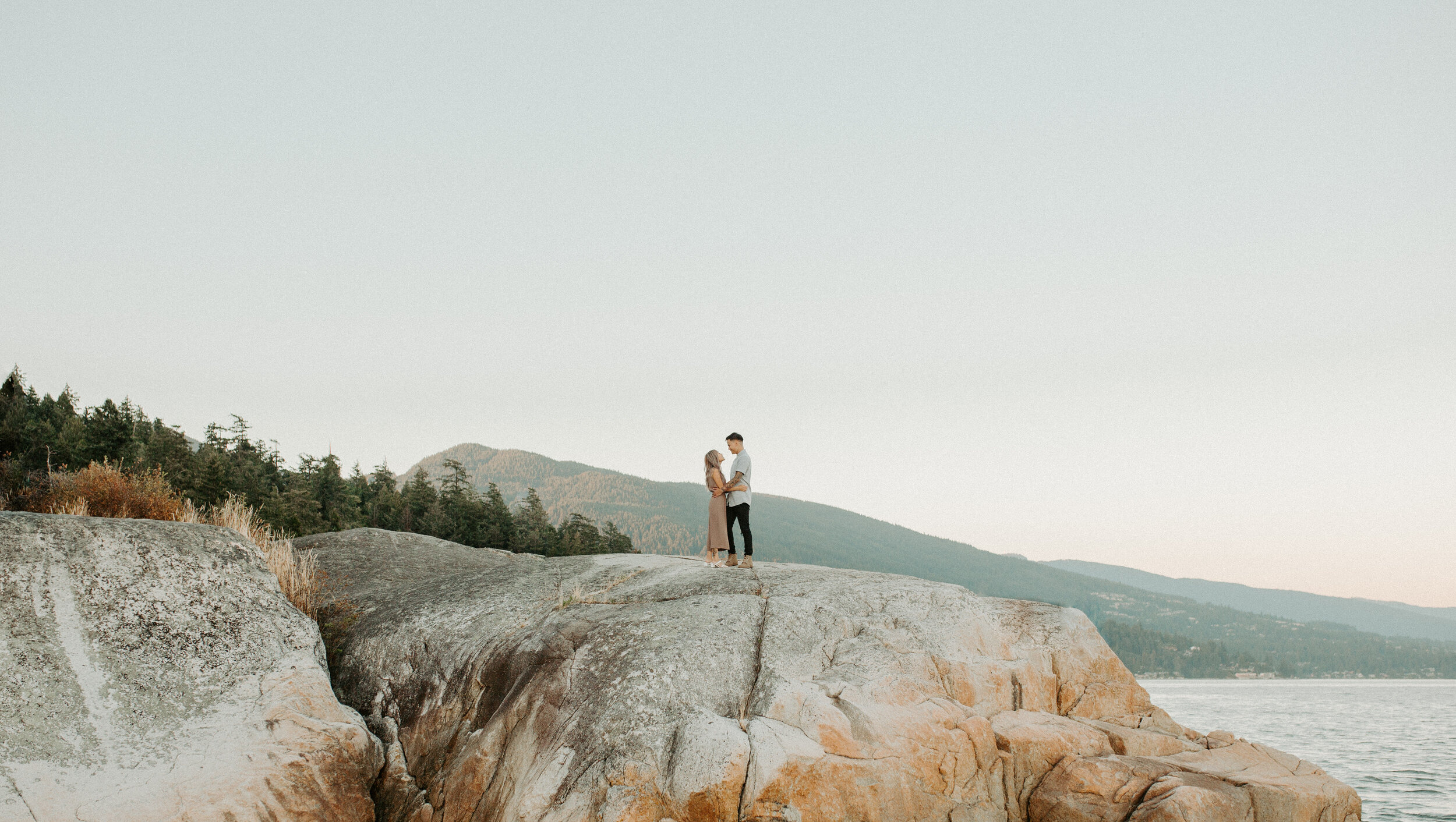 photographer: Eunice Chan – https://www.eunicechanphotography.com/guides-tips/location-guide-top-10-engagement-session-locations-in-vancouver
4. Jones Lake
This is the only location on the list that I have never been to! I've visited all of the other locations on my own adventures. Someone please hire me to take photos here. The only reason I haven't been here is that people say it requires a 4×4 vehicle. From what I've read this road is covered in potholes. I do wonder just how bad it really is, because I am from Manitoba, better known pothole city. However, when it's harder to get to a location you'll generally find fewer people there. Who doesn't want a private beach for their engagement session? The photograph below completely captures the charm of this location. Old tree stumps, mountain views and a beautiful lake puts this place at the top of my bucket-list. If anyone has a husky puppy they want to add their Jone's Lake couple session I think my heart would explode. Apparently this is also a great campfire and canoeing spot.
photographers: Jonah + Rebekah August – https://www.the-augusts.com/blog/2019/5/27/jones-lake-engagement-session
5. Bunzten lake
Numero five, Bunzten Lake is located is about a one hour drive from downtown Vancouver. If you're looking for classic mountain view alongside a lake this location is for you. In the summer, be sure to visit this location on a weekday to avoid the crowds. You may even want to consider a morning session for those willing to get ready before the sun rises.
photographer: Indy Hunjan – https://indyhunjan.ca/dreamy-buntzen-lake-elopement/
6. Whytecliff Park
First off the photo below had me swooning over this couple session. If you're considering this location make sure to click the link below the photograph to see the full gallery. Whytecliff Park is located in West Vancouver which is roughly a 30 min drive from downtown. This park is known for it's island/peninsula (dependent on the tide), beach and rocky cliffs.
photographer: Paramount Weddings: https://www.paramountweddings.com/photography
7. Squamish Spit + Estuary
I remember the first time I google mapped the Squamish Spit. I arrived at what appeared nothing like the photo below. In fact, it was a literal swamp. Depending on the time of year there are certain areas in the Squamish spit area that you are going to want to visit and others to avoid. Let me be your guide. I'd definitely recommend wearing shoes you don't mind getting a little wet, especially if its rained recently. This location is about an hour and 20 minutes from downtown Vancouver. It is best known for its grassy fields and mountain view.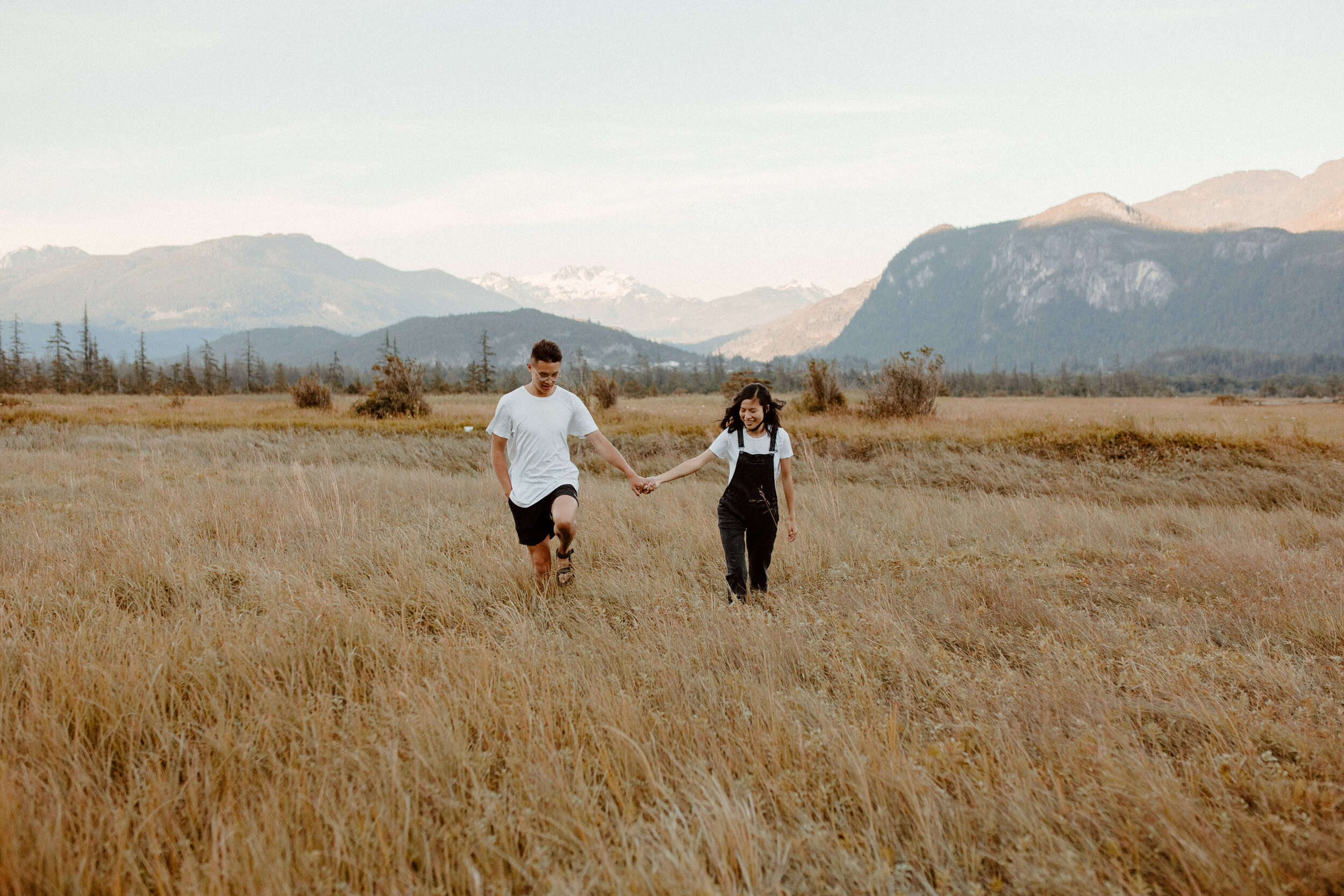 photographer: Eunice Chan – https://www.eunicechanphotography.com/guides-tips/location-guide-top-10-engagement-session-locations-in-vancouver
8. Wreck Beach
I can't recommend this beach without a slight warning. Wreck beach is nude beach so be prepared to shield your eyes when visiting this location. So you may be asking why in the world would I recommend this location? After all, who wants naked people in their engagement photos? Yes, during the day wreck beach is often busy with both clothed and naked people. However, during the early hours it can be your own private beach. The beach is less popular in the morning because it requires about 400 stairs to access. The good news is that you get to take the stairs down to your session. However, after your session it might take you a little while to get back to your car. If you're looking for a sunrise location in Vancouver I strongly recommend this one. It offers mountains, forests, sand and the ocean all-in-one.

photographer: Eunice Chan – https://www.eunicechanphotography.com/guides-tips/location-guide-top-10-engagement-session-locations-in-vancouver
9. Jericho Beach
Are you looking for a location directly in Vancouver? Jericho beach has both mountain and cityscapes making it a popular beach. If you are camera shy this may not be the place to book your session. However, if you love Jericho beach but want to avoid the crowds, consider booking your session early in the morning.
photographer: Eunice Chan – https://www.eunicechanphotography.com/love-stories/rainy-steamy-jericho-beach-couple
10. Chilliwack Lake
Are you up for an adventure? This location requires a mini road-trip as it is about two hours from downtown Vancouver. The lake is beautiful, but this location also offers so much more. It has everything from mountain views, fields, forest trails and even a nearby waterfall.
photographer: The Mclachlans – http://the-mclachlans.com/stories/2018/12/4/chilliwack-lake-couples-session
Let's Plan Your Adventure
Are you ready to book your adventure? Fill out my inquiry form!